---
Arboretum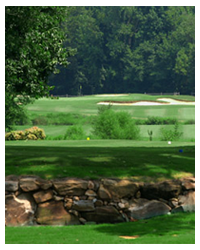 Located on the corner of Providence Road and Highway 51, The Arboretum shopping center features a mix of national and local retailers with over 80 shops, salons and restaurants. The shopping center is surrounded by other service-oriented businesses, including medical offices and banks.
Many residential communities around The Arboretum were built between the 1980's and 1990's. The area is also home to Raintree Country Club, a golf and swim club with a large residential community including a wide range of homes and townhomes.
---
Ballantyne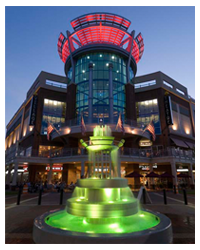 Covering 2,000 acres, Ballantyne is located at the southern tip of Charlotte and has grown tremendously since it's start in the early 1990's. Ballantyne offers a great variety of shopping, dining, and hotel accommodations.
Ballantyne is also home to the Ballantyne Country Club, five-star Ballantyne Golf Resort and Spa, multiple corporate office parks, and many new subdivisions with homes ranging from luxury townhomes to multi-million dollar mansions on the golf course.
---
Blakeney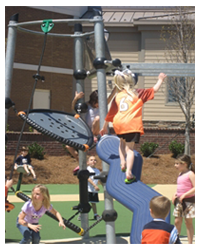 Blakeney is a 270-acre multi-use development two miles outside I-485, zoned for 495,000 square feet of retail to include a mix of local and national retailers with a signature retail component of specialty shops, as well as casual and upscale dining. Crosland's retail, land development, office, apartments and contracting divisions are all involved in Blakeney, which encompasses four quadrants at the intersection of Rea and Ardrey-Kell roads – key thoroughfares connecting southern Mecklenburg and Union counties. The pedestrian-friendly community links retail, office, residential and recreational amenities through a network of sidewalks and trails, highlighted by preserved greenways and a two-acre park.
---
Pineville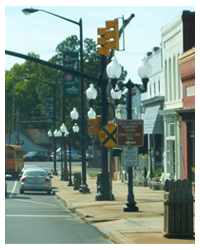 Pineville is a small town of over 7,000 residents that is best known for its expansive shopping. Home to Carolina Place Mall and multiple large strip malls, Pineville boasts over six million square feet of retail space. Along with the big name retailers, Pineville is also well known for its antique shops in its historic downtown area.
---
Southpark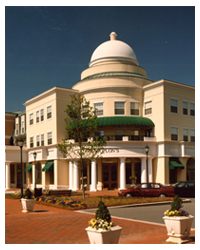 Centered at the intersection of Fairview Road and Sharon Road in south central Charlotte, Southpark is about six miles south of Uptown Charlotte. In addition to being home to the mall, SouthPark is also a residential area and one of the largest business districts in Charlotte and the state of North Carolina, with an estimated 40,000 employees.
Southpark was once a 3,000 acre farm owned by North Carolina Governer Cameron Morrison. Today it is home to many high-end homes, as well as Southpark Mall, which is home to many luxurious stores including Neiman Marcus, Tiffany & Company, Louis Vuitton, and many more. At nearly 1.8 million square feet, Southpark Mall is the largest shopping center in North Carolina.